Gift Subscription For Coffee Lovers
Whether they're a self-professed coffee snob or a self-assured coffee enthusiast, there's one thing your coffee-loving friends and family will always need: a fresh supply. Each pour over coffee or travel mug full o' joe brings them closer to the disaster of running out, and there's nothing that strikes fear into the heart of a coffee lover quite like the sound of an empty coffee grinder whirring away early in the morning.
Be the hero your coffee-loving friends and family need by giving them a steady supply of the best coffees the world has to offer with a gift subscription to the Moustache Coffee Club!
A Unique Coffee Gift
We taste thousands of coffees from all over the world and source the absolute best to share with our club. We deliver premium single-origin coffee beans each week, along with detailed information about the farm where the coffee was produced. We roast and ship every order same-day to make sure each box arrives at the peak of freshness, ready to be enjoyed. We believe the best gifts for your favorite coffee drinker are quality and variety in every cup of coffee they enjoy.
Perfect for Every Taste
Our beans go great with every kind of coffee brewer. Our club members brew with traditional drip coffeemakers, espresso makers, cold brew coffee systems and everything in-between. Members can even tailor their coffee subscription to their liking, including options for more classic tastes, espresso, and decaf. No matter what kind of coffee your friends and family love, each shipment from Moustache Coffee Club will give them an opportunity to turn the kitchen counter into their favorite coffee shop.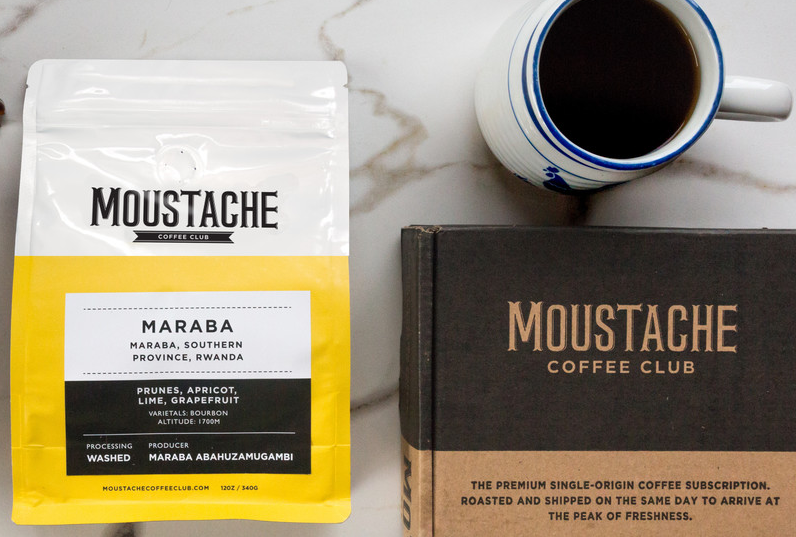 The easiest gift for coffee lovers in your life.
Even if you don't know the difference between an espresso machine and a french press, you can still give the perfect gift for coffee lovers. We make it simple: Select a Plan and choose how long you want to share the love. Give us the email of the recipient and you're all set!
You don't even need to know their shipping address. We'll send them a nice email on the delivery date you specify along with your message. Then they'll enter the best shipping address for them and we'll start their subscription. In a few days, premium beans from our coffee roaster will arrive fresh in their mailbox, ready to brew!
Customize Your Gift Subscription
Skip the uninspired coffee gift baskets and give them something that they'll actually use every day! Select a plan and how long the gift should run for, write them a personalized note, let us know when we should email them their gift, and we'll handle the rest. We'll select amazing single origin coffee for each shipment and roast it fresh to order. If they find something they like or want to choose their own coffee, they can jump in at any time and make their own selections from our stock of premium coffees.