How it Works
Here at Moustache Coffee Club, we're all about sharing a premium coffee experience with like-minded coffee lovers all around the world. Join us!
Starting A Subscription
Starting a subscription plan is easy. Head over to our subscriptions page and select two things:
how much coffee you'd like
how often you'd like it delivered
Then create an account, enter your payment details, and you're all set! We'll send great coffee straight to your mailbox at whatever frequency you selected!
Need up update your subscription plan?
Updating your plan is a breeze on the account dashboard, or you can drop us a line to handle any changes: contact@moustachecoffeeclub.com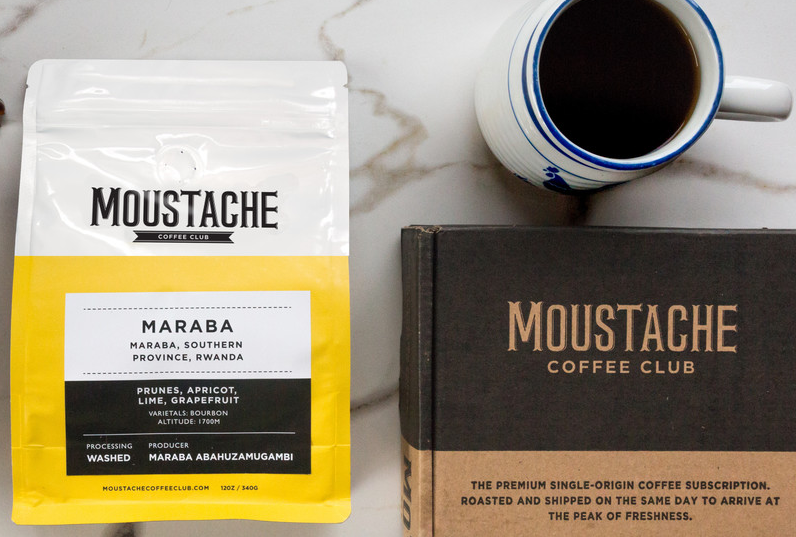 Your First Shipment
We roast and ship on Tuesdays, so your first shipment of coffee will arrive around Friday (international shipments may take a little longer).
In addition to excellent coffee, each box includes an info card with details about the producer and region where the beans were grown.
A few days after your shipment arrives, we'll send you an email and ask you to rate your coffee. These ratings help us build a profile of your preferences that we can use to send you more coffees you'll love!
Will I Get The Same Coffee Each Time?
Nope! We're constantly tasting coffees from around the world, and selecting the best lots to share with the club. Since coffee is a seasonal crop, our inventory changes throughout the year, with new coffees added all the time. To see what coffees are currently in stock, you can visit our Choose Your Coffee page, which is updated in real-time with our latest inventory.
How Is My Coffee Chosen?
There's actually a couple options. Subscribers can actively select what coffees they receive, or you can let us make the decisions for you!
Choosing Your Own Coffee
To see what coffees are currently in stock, you can visit our Choose Your Coffee page. If you see something you like, you can add a coffee to your queue and we'll send it for your next subscription shipment. Your queue can hold up to a month's worth of coffee at any time (2 shipments for bi-weekly subscriptions, 4 for weekly subscriptions, etc).
What if I want to repeat a coffee?
If you find a coffee you love, you can add it to your queue multiple times for repeat shipments. You can even add decaf or our limited Tasting Series coffees to your queue, and we'll send 'em your way! The queue is your way to mix-and-match the coffees you want to enjoy with just a few clicks.
Letting Us Choose Your Coffee
If you don't want to choose your own coffee, you can still get personalized selections each week. We'll send a stellar coffee your way and ask for your feedback via email. Before your next shipment, a fancy artificial intelligence will consider your feedback and make a recommendation for what new coffees you might enjoy. (Our founder has a PhD in Computer Science and he's really proud of this bit). Then we'll select a new premium coffee and send it your way.
What if I have specific preferences, like Decaf?
You're in luck! We offer decaf coffee, as well as a Classic Series of beans specifically selected for their smooth, chocolatey flavors (These are quite popular with people who prefer smoother, savory coffees). You can easily update your preferences from your account dashboard to receive these coffees, and your shipments will be adjusted accordingly.
Can I Order Extra Coffee?
Absolutely. If you need extra coffee for when the family's in town, or if you want to double up on a lot that you love without changing your regular subscription, we've got you. You can add one-off orders of any coffee we have in-stock through the same Choose Your Coffee page. You can even place one-off orders without a subscription if you really want to, but trust us, the subscription's worth it!
How much time do I have to choose coffees or update my subscription?
Since we roast everything to order, we need to have our inventory totals locked-in each week so we don't waste any coffee. If you want to add a coffee to your queue, purchase a one-off order, update or (gasp) cancel your subscription, be sure to do so before our weekly cut-off: 6PM EST on Sundays.
You can make changes via your account dashboard, or by dropping us a line:contact@moustachecoffeeclub.com
Have more questions?
Check out our FAQ for more nitty-gritty details, or send us a note. We love chatting coffee!